Five good things:
1. Offensive line. My lord, they looked excellent. Dalton dropped back 37 times, was pressured on only four and wasn't touched once. Not a sack, not a hit. The rushing game produced 155 yards on 35 carries (4.4 YPC, a number that is deceptively low as BJGE/Gio combined to average 5.1 YPC). The offensive line did whatever they liked with the Colts front seven. Backup turned starting LT Anthony Collins made NFL sack leader Robert Mathis a complete non-factor. Mathis had as many penalties (one offsides call) as he did tackles (one, a few yards downfield). This is the second straight week the team has rushed for 150+ yards and the third straight week that Dalton hasn't been sacked. The Bengals are 3-0 in that time and Dalton has 8 TD's to 3 TO's during that stretch. No coincidence. Outstanding work.
2. Andy Dalton. It's been some time since Dalton landed on this side of the ledger. Good to have him back. His work here won him AFC Offensive Player of the Week and it was well deserved. 24/35, 275 yards, 4 TDs (1 rushing). He wasn't exactly threading the needle through three defenders or tossing the ball 65 yards, but that's not his game (plus he didn't need to. Colts stink). He's at his best with quick reads, quicker releases and nice throws and he excelled at all three on Sunday. 42 points without the benefit of a turnover, spreading the ball around and 5/5 on red zone trips are all signs of a great day. Days like this are ones that give me hope for Dalton. Not that he'll put it together every game for the next 10 years and become Tom Brady. But that he can put it together and get hot for the 3-4 games it takes to win a Super Bowl. If it happened for Eli Manning and Joe Flacco, I won't rule out Dalton.
3. Jay Gruden. I gave Gruden the blame last week for guys not being involved in the offense last week, so I have to give him the credit here. The Bengals offense saw only three different receivers catch at least 3 passes in the previous two weeks. Five different receivers caught at least 3 passes in the Indy game alone. Gresham/Eifert combined for 8 catches, 61 yards and a TD after being seemingly forgotten about lately. Marvin Jones had 60 yards on the day, which exceeded his numbers from the past three weeks combined (23 yards). Again, just a great all around showing by the offense. Kudos to Gruden.
4. Gio Bernard. His best game as a pro. 12 carries for 99 yards. 4 catches for 49 yards. And he still had to watch from the sidelines as BJGE took two one yard carries into the end zone. Bernard has averaged a little under 14 touches per game this season, and is showing no signs of slowing down. I'm hoping Gruden has been slowly increasing his workload throughout the season to unleash some 20 touch games for Gio here late in the season.
5. Jermaine Gresham. Yeah, the offense sweeps this weeks good things. They were that good. Gresham surely did his part catching all five of the passes thrown his way for 41 yards and a TD. He also did his part in both parts of the blocking game, earning him one of the highest Pro Football Focus scores of his career.
If all five good things came from the offense, you can guess where this is going.
Five bad things:
1. Trent Richardson. Now you know I'm usually the first one to sing DC Mike Zimmer's praises, but not today, bubba. Trent Richardson touched the ball 11 times for a season high 88 yards! This is unacceptable and I'd expect Zim to be on the hot seat about this. Richardson had an eight, EIGHT yard carry where I wanted to throw my computer out of the window. He also had five catches for 68 yards, including a 22 yarder that put the rumor to bed that his knees would burst into flames if he ran more than nine yards at a time. Just abysmal.
2. Defensive line. While the defensive line played reasonably well and did get in Luck's face a couple of times, they didn't sack him once. Luck was hit 27 times over the past month, and we only knocked him down four times. Part of this was due to Luck's legs and quick release, but the other half was our guys just not generating adequate pressure.
3. Poor tackling. 15 missed tackles on the day, according to PFF. Six on this play, according to me.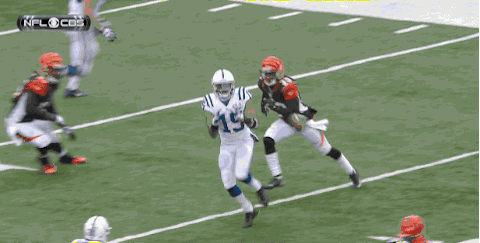 4. Injuries. Again. Terrence Newman sprained his MCL during the second half and will miss 1-3 games. George Illoka left with concussion like symptoms and is questionable for Sunday Night against Pittsburgh. That puts our starting corners at Pacman Jones and Dre Kirkpatrick. In addition to journeyman Chris Crocker lining up alongside Reggie Nelson at safety if Illoka can't go. LESS than ideal to say the least. To Jones' credit, he has filled in admirably since the loss of Leon Hall. And Kirkpatrick has played very well lately, with his first career sack, interception and setting a career high in tackles in each of the least three weeks. He's also made some nice plays on special teams, from hustling back to down punts or drawing penalties on the other team so I have a little faith in him. A little.
5. Box scores. If you only looked at the box score of this game, you'd see that Luck threw for 326 yards, 4 TDs and lead the team in rushing. That the Colts rushed for 5.3 YPC against the tough Bengals defense and that they simply ran out of time, as the Bengals played ball control by possessing the ball for nearly 38 minutes of the game.
WRONG. The Bengals completely dominated this one from the jump. Part of it was due to excellent execution from the offense and special teams. Part of it was that the Colts aren't a very good football team. The Bengals defense missed more tackles than they have all season, or this score could have gotten uglier. The Colts are lucky to have already clinched, because they've got some real kinks to work out on their team before the start of the playoffs.
Week 15: On the road against the Steelers.
1. With the Steelers 5-8 and coming off two straight losses, Cincinnati could put an end to their playoff hopes for the second straight season. I imagine that Marvin Lewis may have mentioned that this week in team meetings.
2. Not only are the Steelers coming off of two straight losses, they are two brutal losses. A two point loss on Thanksgiving to the Ravens in TiptoeGate and last week's hilarity as Antonio Brown stepped out of bounds just yards away from scoring the game winning TD. Of course, division games are always tough and this one will be as well, but the Steelers are dying to fall apart. There's been more subtle shots between Roethlisberger and Todd Haley, and the questions about next season have already begun.
3. The Steelers defense is seventh against pass yards per game and 24th against rush yards per game. I think this plays right into the hands of our new offensive line. Cincy rushed for 127 yards in a week two meeting against Pittsburgh, and I'm hopeful they'll be able to pick up 150 on the ground for the third straight week. The line also figures to get starter Kevin Zeitler back at guard. He dressed for the Colts game, but didn't play as Mike Pollak did a great job filling in.
4. The Steelers offense is seventh in pass yards per game and 31st in rush yards per game. I imagine those pass yards numbers are a bit skewed as a 5-8 team is probably playing a good bit of catch up, but it still worries me. Roethlisberger is quietly having another good year, Antonio Brown is fourth in the league in receiving yards and Heath Miller is back after missing the week two meeting. Our pass rush has just two sacks in the past two weeks, so I'm not even sure they'll be able to take advantage of Roethlisberger dropping back 40 times.
5. Another big game here. A win here and some luck in the Ravens-Lions game, and we could clinch the division. A little more luck with the Patriots heading down to Miami, and we could slide right into the #2 seed. I'm a little worried as this is the Sunday Night game and it will be in Pittsburgh. I still have nightmares of Dalton overthrowing EVERYONE, as he did in the first meeting with Pittsburgh. Still, Cincy came to Pittsburgh last year in week 15 and got a win to keep our playoff hopes alive. The 2012 Steelers were better than the 2013 Steelers. The 2013 Bengals are better than the 2012 Bengals. I think we pick up a close victory.